NRNB Mentoring Organization
NRNB Academy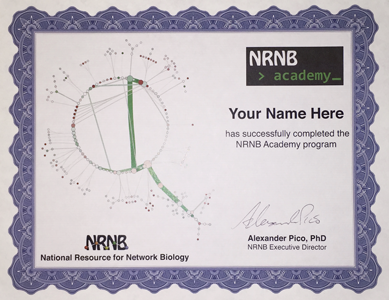 Outside of our sponsored summer programs, NRNB Academy runs year-round to match students with mentors in network biology software development. NRNB Academy offers you the opportunity to work with our open source development team on network biology related tools and resources. The program is volunteer-based and flexible in terms of time commitment and project lenght. This is a great introduction to our dev community and the workings of open source in general. Start by completing our Admissions Form:
Admissions Form
The National Resource for Network Biology (NRNB) is organizing the joint efforts of Cytoscape, WikiPathways and other network biology tools. This is a great opportunity to work at the intersection of biology and computing! We take mentoring seriously and are proud of our 90% success rate with former students and projects. But don't take our word for it, read testimonials from prior NRNB students and mentors, and success story profiles. And you also get a certificate of completion!
The success of our mentoring program depends on dedicated mentors, great project ideas, amazing students, and effective fundraising. Please contact us with ideas or leads on potential corporate sponsors or use the PayPal widget below to make your own tax deductible donation.
How to apply
You can apply for the year-round mentoring program at any time. Fill out the Admissions Form to start the ball rolling.
Start with this Google Doc template. Copy and paste the contents into your own Goolge Doc and begin filling it out. Get in contact with your potential mentors (listed per project) as soon as possible to get input and feedback on your application. Submit your application well before the deadline. Late submissions will NOT be considered.
-->
Advice
If you are selected
You be working with a small, active group of programmers that also speak biology
You will be gaining experience in a rapidly evolving field that interfaces computer and biological sciences
You might make more than you would mowing lawns!
Project Ideas
Here you will find the complete list of potential projects and mentor contact information.
Timeline
Open enrollment in NRNB Academy until we find out if NRNB is accepted to GSoC 2018.
Resources
Communication
For Students
For Mentors
Prior Year Reports
---
Other Opportunities
If you don't qualify for GSoC (e.g., you're still in high school or you're no longer in school), consider some of these other opportunties:
NRNB Academy -- Open to anyone at any age or education level. Rolling enrollment all year-round. You will be paired with a mentor and sign-up for a particular project that matches your interests and skills. Start by browsing our project lists , then fill-out the application form.
Google Code-in -- A contest styled program for ages 13-17. Check out the main site for details.
TEALS -- Microsoft Philanthropies supports many opportunities for high school students. Check out this page for details.